Most have seen the home repair and service portal websites. Angie's List,  (I won two customer service awards from them) Thumbtack and the newcomer on the block Home Adviser.   All these sites claim to be "customer review" sites but my experience has been a bit different when viewed from the business angle. Please keep in mind I do not have any bad reviews with these sites, but want people to know how they work.
Most would think the business with the most reviews (or at least best) would get top listing but that is not true. Within minutes of signing up with one of these sites a business will receive various offers to "improve" their position on these repair portals via email and through cold calling by these companies.
So you as an end user might never see the best repair companies because they might not have paid to get higher rankings. And you maybe exposed to less then stellar companies just because they paid to be seen first. Now some would say "what's the big deal, it's advertising". And to a degree, I agree. Any company can place ads wherever they please.
But the part I object to is that these sites cloth themselves in the illusion that it's the reviews that drive what you see and in my experience it is not true. If the review placement you see can be changed by cash, then your not seeing a real review. Simple as that.
Adding to the "fake feel" of all this to me is the way these sites deal with businesses. First with all the emails and phone calls about getting "new" reviews. Some of which were over six months old when I checked them. But when looking online always seem to dovetail right into a new sales pitch. But at least you can in most cases get removed from or at least reduce your exposure to these sale attempts.
While it took me a few tries to get me removed from Angie's list sales calls and thumbtack lets you opt out on their settings pages. It was not too painful.  And for the most part I forgot about these companies.   Until yesterday when Home Adviser contacted me …
with three emails In the space of 2 minutes, saying I have signed up with them (I have not) …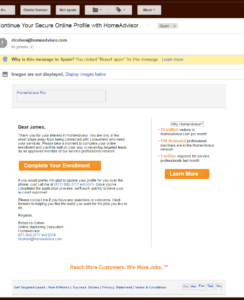 And the last email is from "Rebecca" saying she has new sales leads on "her desk" right now. So somehow I signed up for this service, confirmed my email address (as all signups would have you do nowadays) and got brand new leads printed out and ready for "Rebecca" to review with me?
As I am sure you have figured out by now all this is just to get a potential business excited about their service. As all this could not have happened in two minutes time.
But it leaves a bad taste in my mouth when business is conducted in this way. As the truth seems to be bent for both the consumer and the businesses involved. Paid placement or ads should be obvious and not "hidden" in the review context. And fake "sign ups" and sales leads are just lies. Why do business with companies that can't pass a ethics 101 class?